Immingham Pilgrims AFC Under-10s will soon be sporting a fantastic new kit thanks to their sponsors Premier Training.
For the past five years Premier have been supporting the team, equipping the squad with kits, jackets, training wear and match balls.
That backing has helped the team improve year on year. This season, the Pilgrims finished runners-up in the Croft League Trophy event and have won six, drawn three and lost just two of their matches so far.
The 2019/20 season comes to an end in April – and the team will complete their campaign in style with the new strip supplied by Premier Training.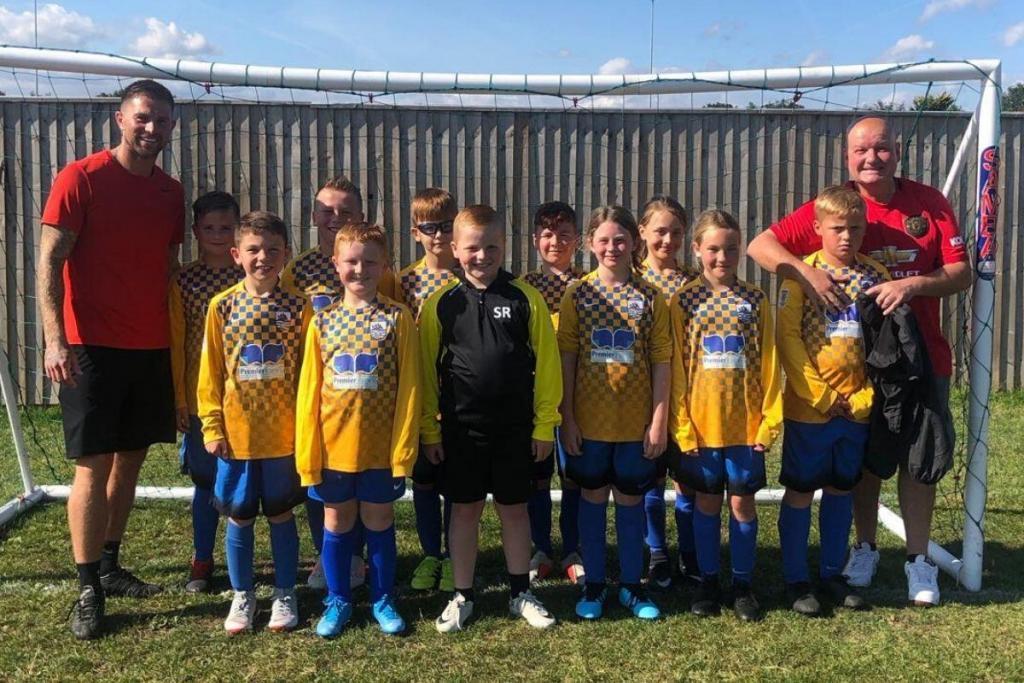 "Some of the football being played by the squad this term is very encouraging and they certainly have come a long way since the relationship with Premier Training started back in 2015," said John Leach, Immingham Pilgrims Lead Coach.
"The Under-10s fly the flag for mixed gender football as they have three girls within their ranks who all play an important role within the group and possess the talent to mix it with the boys."
John continued: "Immingham Pilgrims are very proud to call Premier Training their longest-standing sponsors. Rose Crockett (Operations Director) and her family have been involved with the club for the best part of 25 years and we hope that the relationship continues for a long time to come.
"Immingham Pilgrims would like to thank Rose and Premier Training for their continued efforts to help the children of Immingham. We would not be able to survive without the help and great support from people like her."
Read more of Premier Training's 'In the Community' news here.
Follow Immingham Pilgrims' progress this season here.

Premier Training staff got on their bikes as part of an annual cycling challenge.
Led by tutor Richard Sharp, the team racked up more than 400 miles in the saddle as part of Love to Ride's Cycle September initiative.
That saw Richard and co finish as runners-up in their category – for companies based in the North East Lincolnshire region with 7-19 members of staff.
Love to Ride aims to get more people cycling using its online platform, local promotion and human interaction.
Local Project Manager for Love to Ride North East Lincolnshire, Jane Martin, said: "We're an organisation that tries to get as many people cycling as possible – it's all about changing their long-term habits.
"We run a series of events through the year. We have Ride to Work Week in March and Bike Week in June, while Cycle September is our biggest event. Then we have Winter Wheelers in December too.
"Richard and Premier Training have received this award for September because they gained points for cycling frequently.
Super cycling success
"It's great to have a cycling enthusiast like Richard in an organisation because he can encourage other people to ride regularly, and spread the word. Well done to everyone involved!"
Richard added: "I initially started cycling to work as a way to improve my fitness and make a contribution, albeit a miniscule one, to reducing emissions from cars.
"I heard about the Love to Ride initiative from our son and joined the group in March 2017. It has certainly helped motivate me to ride more frequently than I otherwise would, especially the commute to and from work.
"My fitness level has improved significantly, from my first 17-mile ride to work where I struggled at times, to being able to ride from Blackpool Tower to Cleethorpes Pier in a day, a total of 163 miles."
Find out more about Love to Ride here.
Follow Premier Training on Twitter for the latest news and views.

Premier Training's offices were even more colourful than usual for Wear it Pink day earlier this month.
Staff dressed in pink, played games and sold pink cakes and snacks to raise funds for life-saving breast cancer research.
Breast Cancer Now's Wear it Pink day is one of the largest fundraising events in the UK. Taking place during Breast Cancer Awareness Month in October, thousands of amazing people wear it pink in their communities, schools or work places for the UK's largest breast cancer charity.

Rose Crockett, Premier Training's operations director, said: "We had a great day raising money for Breast Cancer Now, with lots of our staff getting involved. As a company, we are proud to support a variety of local and national charities and community projects. We'll be looking to collect even more money for this fantastic cause next year."
Since the first event in 2002, Wear it Pink has raised more than £33 million for vital research. Research that's working to discover how to prevent breast cancer, how to detect it earlier and how to treat it effectively at every stage.

Members of Immingham Pilgrims Under-10s football team were at Old Trafford recently to watch Manchester United battle it out with Arsenal.
And the footy-mad youngsters were keen to show off their Premier Training sponsored shirts at the Premier League match. Premier Training have also sponsored the team's bench jackets, training tops and match balls this season – continuing their longstanding support for the club.
Operations Director, Rose Crockett, said: "It's great to see the Pilgrims players enjoying themselves at such a big game and showing how proud they are of their own football team.

Proud to support Pilgrims
"Supporting local sports teams, events and charities is massively important to Premier Training and something our staff are really of proud of. It's also fantastic to see young boys and girls being active and enjoying sport."
An Immingham Pilgrims spokesman said: "The club, managers and players of the under-10s would like to thank Rose and Premier Training for their unreserved generosity and continued support of our team. The tops and jackets will come in handy during the cold winter months and they look fantastic.
"Rose has shown us that Premier Training care about the local community and we are very humble to have such a great, longstanding relationship with them."
Read more of Premier Training's 'In the Community' news here.
Follow Immingham Pilgrims' progress this season here.

Premier Training Web Developer Kalvin McKenna got his gloves on to raise more than £1,000 for Cancer Research UK.
After watching a friend in action at an Ultra White Collar Boxing event last year, Kalvin was inspired to follow his lead and train for a contest of his own. Following eight weeks of intensive training, he stepped into the ring for his moment of truth.
He said: "In June 2018 I sat at a table at the UWCB event where my friend was competing. When I listened to the effects cancer has on, not only the person with the disease, but also their families, I knew I had to do more. So I decided I was going to put my body on the line in the effort to help raise money for Cancer Research UK."
Having organised more than 1,000 events since 2009, Ultra White Collar Boxing has raised a staggering £17 million for Cancer Research UK. That makes it the charity's biggest fundraiser in the UK.

An unforgettable experience
"On my quest I met and trained with an amazing bunch of people who helped fight cancer as part of the UWCB team," Kalvin added. "It was a night I won't forget any time soon – I still feel like I dreamed it. To stand in front of over 1,000 people and help raise money in the fight against cancer. It was one of the toughest but greatest achievements of my life.
"It was a really tough fight and a great match up. I didn't come out victorious but I was more than happy with my performance for this great cause. As Rocky once said 'Going in one more round when you don't think you can. That's what makes all the difference in your life.'
"Premier Training were so supportive while I was going through the training. The company sponsored my vest while lots of staff members also donated to the cause."
Read more of Premier Training's 'In the Community' news here.
Find out more about Cancer Research UK by clicking here.

Premier Training staff got their hands on yet another prize when Sheffield Eagles visited their offices with the 1895 Cup.
The rugby league side made history in August, becoming the first winners of the AB Sundecks 1895 Cup after a 36-18 triumph over Widnes. And Premier Training were among the sponsors featured on the Eagles' warm-up shirts at Wembley.
The Premier offices are no stranger to awards and trophies, with the company claiming the Large Training Provider of the Year and Lifetime Achievement Award at the 2019 AAT Training Provider Awards. It was also named Distance Learning Provider of the Year in 2016 and 2017 – becoming the only organisation to win this award twice.

'Thanks for your support'
Eagles coach Mark Aston was keen to thank all at Premier Training for their support following a successful season. He said: "We wanted to come in and thank all the staff for their support. We had a big occasion this year at Wembley and they kindly agreed to sponsor our players' warm-up tops for that game.
"We are indebted to companies who sponsor us, it helps the club so much. To have the opportunity to visit with the cup and show our gratitude is something we really enjoy doing. We have a fantastic relationship with Premier Training and it was great to see their staff getting pictures with the 1895 Cup.
"We've given them a signed top to display in their offices and we'd love to see them at our games next season. We really do appreciate the support they provide."
Special day at Wembley
Reflecting on Sheffield's triumph, Mark added: "We're so proud of the team that brought silverware back to Sheffield. It was a special day at Wembley. Sport is all about creating memories and our players and fans certainly did that. There was so much preparation that went into it. What we achieved – as players and backroom staff – was the icing on the cake."
Rose Crockett, Premier Training's Operations Director, commented: "Our congratulations go to Sheffield Eagles on a fantastic achievement. It was a real privilege to have our pictures with the 1895 Cup and we look forward to supporting the club again next season!"
Read more of Premier Training's 'In the Community' news here.
Follow the Sheffield Eagles' preparations for the new season here.

1 in 4 people suffer with a mental health condition, with the greatest cause of death in men under 35 being suicide. Statistics like these made Premier Training want to show their support and contribute towards a charity that focuses on supporting those with mental illnesses.
Therefore, we are proud to announce we have partnered with the charity MIND to help raise funds and awareness of a cause that can impact on so many lives.
Studying can be one of the causes that can contribute towards a mental illness or can potentially jeopardise someone's studies because they already have a mental illness. This is why MIND say it's #oktosay.
Whether you are studying via distance learning or other means it is important to let your tutor know you have a mental health illness. This will not impact on your studies but enhance your learning experience as you will be supported along the way and adjustments can be made if necessary to ensure you complete the course successfully. #youarenotalone
At Premier Training we pride ourselves on the support we offer students who at times are struggling and may need some support and encouragement. Our 1 to 1 sessions have proven popular with many students who for varied reasons have needed that support. #supportforall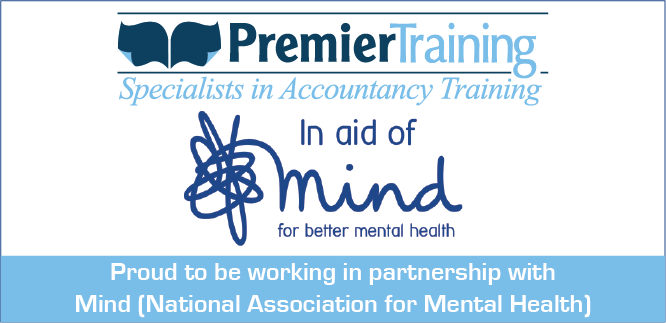 During the summer of 2016 my Wife Julie and I were on holiday in Argeles-sur-Mer on France's Mediterranean coast. The weather was spectacular, and on a whim, we decided to hire bikes to allow us to more comprehensively explore the area, without having to resort to a car. We thoroughly enjoyed the experience and even relied on our newly found freedom to go out in the evenings. On our return home, we continued to go out for weekend rides on a couple of very ancient Raleigh's that were more than past their best.
By mutual consent and after waiting for the "Black" Friday deals we bought two Hybrid bikes as joint Christmas presents. Despite being in the depths of winter we continued with infrequent rides whenever the weather wasn't too bad. My commute to work is a 32 mile round trip and it occurred to me that riding to work and the accompanying benefits to my health and the environment were eminently achievable. Towards the end of February 2017 I cycled to work for the first time, and found the going very difficult. I'd planned to ride just one way and left my bike at work to collect the following day.
With a Son and three Son-in-Laws, two of whom were very capable riders, I couldn't help but feel some embarrassment at my feeble attempt, and decided to increase the frequency of my rides. From a work colleague I heard about the "Love To Ride NE Lincs" initiative to encourage people to cycle to work, and increased my number of commutes; round trips, not just one-way. By the end of August I was close to riding 1,500 miles and the temptation to acquire a more streamlined bike was just too much to resist. One of our Son-in-Laws was upgrading his bike and I bought his old one; not the lightest top of the range model, but it certainly allowed me to increase the range and frequency of my rides.
During a team meeting towards the end of the year our Operations Director, Rose Crockett, expressed a desire to see us play a more active role in helping the local community and raising money for charitable organisations. We were already sponsoring a local football team, and from my communication with AAT students, I'd noted how frequently the subject of dementia came up. How difficult it could be to fit study time around caring for a relative was a frequent area of concern. I mentioned this in the meeting, and Rose's immediate response was something along the lines of "if you go in for a 100 mile organised event, the company will double whatever you raise". I accepted the challenge and agreed to look at what was available locally.
Through the Summer and Autumn I had ridden two short Sportives organised by Sportive HQ, and hadn't really paid any attention to their more demanding rides. By coincidence, over the Christmas period of 2017 I was challenged by one of our Son-in-Laws to complete the 100 mile ride as opposed to the shorter one, at the Flat n Fast 100 Sportive in June 2018; I was now committed to the 100 mile ride. I fully expected to be the last one of our group of four to finish the ride, and by way of compensation, I wanted to take something positive from the experience. Dementia is a truly awful condition and one that seems to be affecting a growing number of people and families. This was my opportunity to play my part, albeit a very small part, in helping to raise funds for what is truly a most deserving cause.
After accepting the Flat n Fast 100 "challenge" my first step was to search online for articles about successful cycling for people in their fifties. This led me to the "Time Crunched Cyclist" by Chris Carmichael which promised to fulfil my objectives of improving my performance with only limited time available. I read probably half-way through the book when he commented that the "Time Crunched Training Programme" works, but not as effectively as having a local qualified coach. I had heard of Vicky Loftus, a local coach who devoted a lot of her time in our local community to supporting inexperienced riders and children to be able to cycle confidently and competently.
I contacted Vicky in early February and she agreed to support me with training for the ride. I promptly received the outline of a 16 week training plan and at the end of each week a revised plan for the subsequent week. My main concern was that I may not be able to actually ride 100 miles and how disappointing that would be for the people who I hoped would sponsor me. My goal was to ride the 100 miles within a moving time of 6 hours, and this was specifically what Vicky's plan focused on. The training was gruelling and involved being on my bike by 6:00a.m.five days a week with different training goals depending on my previous week's performance. In the last five weeks prior to the Sportive I cycled just over 1,000 miles followed by a short period of recovery prior to the big day.
Despite the earlier forecasts for June 2nd looking very promising the weather didn't disappoint; it started with a light drizzle and within an hour heavy rain. It was a very demanding ride and when the going got really tough I concentrated on the goal of being able to raise as much money as I could, and not completing the 100 miles just wasn't an option. The weather improved in the second half of the ride and by 75 miles I had just about "dried off". I don't recall ever being quite so filthy but at least it started to flake off as my clothing dried.
As I rode through the finishing line I hardly dare look at my cycling computer, but there it was; 100 miles in 5 hours 32 minutes. Quite unexpectedly, as I approached the finishing line I was almost overwhelmed by emotion and I'm still not quite sure why. I was desperate to complete the 100 miles, conscious of the fact that my sponsors had donated on this basis, and I think it was this relief on finishing that prompted the emotion.
The following Monday Rose came to see how I'd got on and what the sponsorship to date was. Within 10 minutes of her leaving our office the total raised had doubled. After my JustGiving page closed the total raised had reached £1,222.25; far beyond my original expectations. In one of her final emails my contact at Dementia U.K., Rosie Watson, quoted Janet a dementia sufferer,
"My Admiral Nurse was the one who comforted me, who listened in a compassionate manner, who advised and gave me information that other professionals had failed to supply, who found the time to try and explain and understand my mental turmoil. Knowing that she is there for me is a great reassurance. Words cannot express my debt to the Admiral Nurse" Janet.
I didn't approach my AAT students directly but Premier Training's Facebook page had updates on my training progress and I was genuinely touched by the number of my students that sponsored me.
Richard Sharp
(Premier Training Tutor)