Find out more about the AAT's remote invigilation and calculated results plans with Premier Training's Facebook Live catch-up on Friday (Recorded May 15th 2020)
Discussing support and the latest advice on offer from the AAT – Click to play the video below:

Lee Jones (Premier Training) & Jamie Hughes (AAT)

The AAT have today confirmed that they are hoping to make remote invigilation available from August 2020.
Assessments have been suspended since March 22nd but will be available in a phased approach, with August the target for delivery of the following assessments:
Advanced Diploma in Accounting – Level 3 (Level 6 in Scotland):
Advanced Bookkeeping (AVBK)
Financial Accounts Preparation (FAPR)
Management Accounting: Costing (MMAC)
Professional Diploma in Accounting – Level 4 (Level 8 in Scotland):
Professional Diploma Synoptic Assessment (PDSY).
Other assessments will follow.
The AAT stated: "Over recent weeks, we have been conscious of the need to support the wide range of students and training providers in these difficult times.
"We have had to ensure we have a robust and secure way of delivering assessments that also satisfy our obligations as an Ofqual regulated awarding organisation with qualifications listed on the Key Stage 5 performance tables. We are now confident we have solutions that can work for many of you."
The AAT have also announced they plan to calculate results for Level 2 qualifications, with those results to be announced in August.
Read more about the plans here. And don't miss Premier Training's Facebook Live catch-up with the AAT this Friday (May 15th) at 1pm.

Do you dream of being self-employed and building your own client base?
Or are you looking for an additional income stream to fit around your existing career?
Becoming a Self-Employed AAT Licensed Bookkeeper could be a great option for you and your family.
Here, we guide you through one of the most direct routes to Licensed Bookkeeper status – through the AAT Level 2 and 3 bookkeeping qualifications…

1) Take the first step
If you have no previous bookkeeping or accounting experience then your AAT journey will often begin with the Level 2 Foundation Certificate in Bookkeeping. This qualification consists of two units – Bookkeeping Transactions and Bookkeeping Controls – and two exams to be sat at an assessment centre near you. The course generally takes no more than three months to complete.
2) Foundation Certificate in Bookkeeping achieved?
Congratulations! Now it's time to use that knowledge to study the AAT Level 3 Advanced Certificate in Bookkeeping. The three units (and three exams) provide training across Advanced Bookkeeping, Final Accounts Preparation and Indirect Tax, and can usually be completed within six months.
3) Bookkeeping Levels 2 and 3 completed
You're ready to apply to the AAT to become an Associate Bookkeeper and proudly display the letters AATQB after your name. This indicates the highest standards of professional conduct, up-to-date technical knowledge and commitment of ongoing learning – all very appealing to employers.
4) Offer bookkeeping services to clients
Apply to become a Licensed Bookkeeper with the AAT, enabling you to offer self-employed services in the UK. The licence is awarded according to your qualifications, experience and CPD. You are approved to offer services including bookkeeping, financial accounts and accounts preparation for sole traders and partnerships, VAT, computerised accountancy systems and payroll.
Gain the qualifications you need to become a self-employed bookkeeper. Enrol onto the Premier Training Level 2 and 3 Bookkeeping Bundle this month – and save £250!

Furloughed employees across the UK are using time at home to enhance their CVs with Premier Training's AAT courses.
More than seven million workers across the UK have been furloughed as companies utilise the Government's wage subsidy scheme to protect jobs during the Covid-19 crisis.
The initiative allows employees to be retained on the payroll even though they aren't working, with businesses able to claim 80% of their workers' wages – up to £2,500 per person each month.
During furlough, employees are unable to work for that employer.
'The ideal time to enhance my CV'
What they can do though is train, develop and enhance their CVs with additional qualifications.
Many are taking the opportunity to do just that, embarking on AAT distance learning accounting and bookkeeping qualifications for the first time.
"I was furloughed from work earlier this month and felt it was the ideal time to enhance my CV with an AAT qualification," said one student, who has enrolled onto the Foundation Certificate in Accounting with Premier Training.
"This provides me with a great chance to progress my career and ensure I have a structure and a purpose while I'm away from work.
"The course is specifically developed for distance/home learning. I can access a host of online learning resources and hard copy study manuals – and contact my tutor for any guidance."
Meanwhile, thousands of existing AAT students are increasing their study hours and accelerating their learning in readiness for the next level or step in their career.
Rose Crockett, Premier Training's Operations Director, said: "If you have been furloughed or you have more time at home, why not use this opportunity and make the best of the situation?
"This is an opportunity for new and existing AAT students to make significant progress towards an accounting or bookkeeping qualification and to enhance their CVs."
Government guidance also advises that workers on furlough should be signposted by employers to seek additional training and development opportunities.
It states: "Furloughed employees can engage in training, as long as in undertaking the training the employee does not provide services to, or generate revenue for, or on behalf of their organisation or a linked or associated organisation."
The guidance adds: "Furloughed employees should be encouraged to undertake training."
The furlough scheme currently runs until the end of June 2020.
Have you been furloughed? Find out more about Premier Training's AAT accountancy courses here.

The AAT are exploring alternative approaches to their assessments – and will be reviewing the synoptic assessment schedule when possible.
Those were just some of the updates when the AAT's Dan Winterburn joined Premier Training's Facebook Live catch-up last week.
Despite the current situation, Dan confirmed that it is very much business as usual in terms of the support that the AAT can provide students.
He added that this is an opportunity for students to spend their time productively by continuing with their studies and focusing on that end goal of achieving a qualification.
"The accounting profession is now more important than ever," he remarked. "When we come out of this, businesses will need accounting technicians and people qualifying that have all the knowledge that the AAT qualification provides."
As part of the lunchtime video catch-up, Dan answered five of the most common questions that the AAT are being asked at the moment.
On results and certificate release dates…
All marking, result releases and certification will be completed to our published timescales for assessments sat and submitted prior to the suspension on 22nd March 2020.
On additional synoptic windows once restrictions are lifted…
All our assessments are available on demand apart from two synoptic assessments (Levels 3 and 4). We'll be reviewing the synoptic assessment schedule as soon as we know when the current restrictions on educational institutions will be lifted.
On provisions for students to sit assessments remotely…
We're exploring alternative approaches to our assessments. We don't currently offer remote invigilation, but we're regularly talking with the qualifications regulator as well as evaluating our own system capabilities, to identify possible options. We'll keep you updated with any developments or decisions.
On awarding average grades…
AAT qualifications are used to demonstrate competence and skills at various levels and are linked directly in some cases to either a licence to practise or professional membership. For these qualifications, it may not be appropriate to use an 'estimation' approach to outcomes. We are monitoring the situation in line with government and regulator guidance.
On membership fees…
All programme registrations for active short qualifications will be extended by three months, including reopening those that finished from March 1st and extending them. April and May Accounting Qualifications students who have one or two assessments left to complete their level with be given an extension of three months. All students affected will be contacted directly.
In addition to the support available from training providers, the AAT also have a range of resources available for students.
These include their dedicated Coronavirus Resources page where students can find a host of materials and methods to support their studies; and The Learning Portal, a brand new way to manage and maximise studies. Further updates are also available here.
If you are interested in studying with the AAT and would like further advice, please feel free to contact their Student Recruitment Advisors by emailing recruitment@aat.org.uk
If you are an AAT student please feel free to email or call the Customer Support team who are dedicated to supporting students: 020 3735 2468 / customer.support@aat.org.uk

Accountancy distance learning students have an ideal opportunity to forge ahead with their studies during the current period of uncertainty.
While many students on classroom-based courses are unable to progress, home learners can continue – and perhaps even allocate more time to their studies.
Speaking in the first of Premier Training's lunchtime Facebook Live 'chats', tutor Peter Clarke urged students to make the most of any additional time they have while confined to their homes.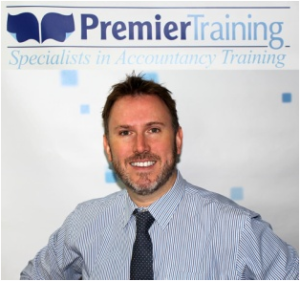 He remarked: "These are certainly challenging times and it looks like it's going to be like this for a while. At some point things will get back to normal and in the meantime we have to make the best of it. This is our new normal for the time being.
"If you have been furloughed or you just have more time at home, why not use this opportunity and make the best of the situation?
"You have an ideal opportunity to complete your coursework and really start understanding the intricacies of the unit or course you're studying – whether it's Level 2, 3 or 4. So when things return to normal you're ready to hit the ground running.
Improve your prospects
"Remember why you enrolled in the first place – you wanted to improve your prospects, you wanted to improve your understanding. If you've got extra time on your hands then make the most of it.
"When the assessment centres re-open or other arrangements are put in place, you will be ready to take advantage of that situation straightaway.
"It's going to be a competitive world out there, so the better position you can put yourself in through your study, the better for your family and your future."
Outlining the support on offer from Premier Training during these uncertain times, Peter added: "From our perspective, it's business as usual. We have plans in place with staff working from home and we're operating as normal.
"We're there to support you in whatever way you need. Everybody's journey and situation is different, but if you have anxiety or worries, please give us a call.
"We're very approachable and the team that we have is absolutely fantastic. We're all very supportive, we all work closely together and our most important priority are our students.
"However we can help you through your journey we will be there to support you."
Look out for Premier Training's next Facebook Live 'chat' – visit our Facebook page here.

We hope you are remaining safe and well during these extremely difficult times.
Following the latest announcements regarding COVID-19, we wanted to post a quick update on how Premier Training will be operating in line with the Government's advice and guidance.
Firstly, and most importantly, we would like to reassure all of our current and prospective students that it is business as usual in many respects.
Although our course advisors, tutors and support staff may be working remotely, our support and service remains unchanged.
Our superb team are working hard to minimise any disruption and ensure our high standards – as AAT Large Training Provider of the Year – are maintained.
We continue to welcome new enrolments and deliver hard copy books to new and existing students the following day, provided we have your order before 2.30pm. This will continue until we are told otherwise by the Government.
In addition, our award-winning online resources are easily accessible and ideal if you are able to study from home over the coming weeks.
Underpinning all that, our tremendous tutors are working tirelessly to provide the same friendly, personal service that Premier Training has become known for over the past 22 years.
If you have any questions at all, please don't hesitate to call us on 01469 515444, email info@premiertraining.co.uk or contact your personal tutor.
Please take care, stay safe and reach out to us if we can support you in any way.
Kind regards


AAT have announced that all assessments after midnight this Sunday (March 22nd) have been suspended.
Here is the full statement from AAT:
Plans for assessments
AAT is a global business and we have evaluated the needs of our students worldwide.
We have concluded that given the current global crisis (and the increasingly wide restrictions being placed on schools, colleges and public gatherings), that the most responsible course of action is to suspend all AAT assessments from midnight Sunday 22 March 2020 UK time. AAT will void any assessment that has already been scheduled for a date after 22 March 2020.
It is important that all individuals heed government advice and reduce their social contact as much as possible – we believe that running our assessments would be contrary to that advice.

Understandably, we are receiving a number of queries from students regarding the coronavirus and how this could affect their studies.
Due to an increasing number of external examination centres closing nationally, this will inevitably mean that many students will be unable to book assessments for the foreseeable future whilst restrictions on public places are put in place.
Being a distance learning provider, our business is very well placed to continue supporting our students during this period. Therefore, if you are unable to book an assessment, our current advice is to continue with your study / course timetable with the aim of catching up with any assessments once any restrictions are lifted and exam centres reopen.
We would like to reassure all students who are actively studying, and who may be approaching the end of their support period, that we will extend access to their MyPTA account and provide tutor support to them throughout this period of uncertainty.
We will continue to provide updates with any new information as it arrives.