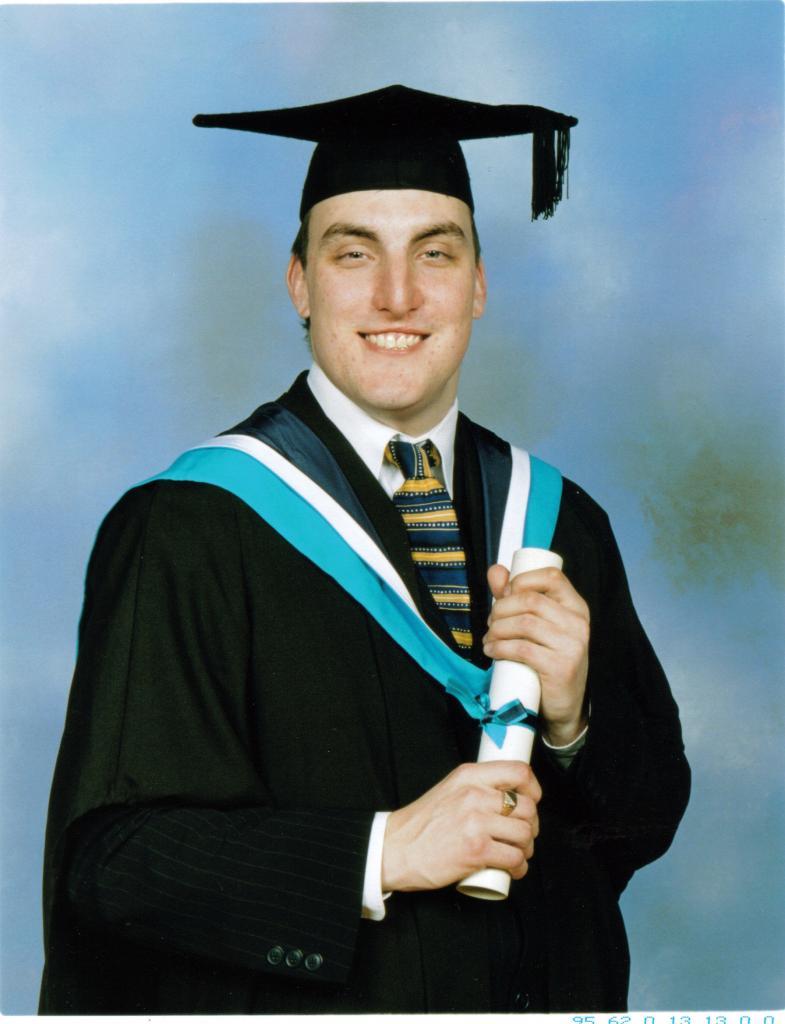 The main aspect that appealed to me with Premier Training was the distance learning and the flexibility that it provided. I was thrown in at the deep end with a finance and wages position and found that AAT provided the skill-set for me to become up to speed on all things financial. Even after starting a couple of new jobs, the attributes that I have gained have enabled me to become successful in finance roles. The tutors are fantastic, always on hand to provide advice and support, no question is too small! The videos and interactive resources are a valuable aid to understanding the more complex accounting issues.
Edward Walford 
(AAT Advanced Diploma in Accounting)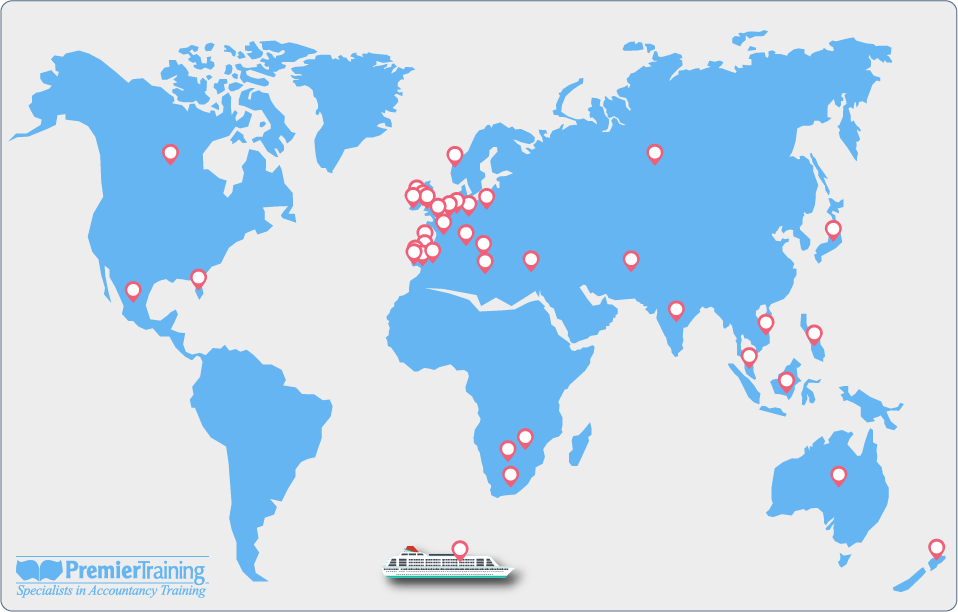 With almost 3,000 active AAT students, in 37 different countries as far afield as Russia, USA, Japan, India and Australia, Premier Training is without doubt a major contributor to AAT training. We pride ourselves on the fact that we make a difference to so many people's lives on a day to day basis.
Large doesn't have to mean monolithic. It doesn't have to mean overseas call centres and a bombardment of impersonal marketing emails; it doesn't have to mean automated responses and the feeling that you are just a number rather than a valued and important customer. We are large, but we have successfully retained the personal touch which means that every student is important to us; every student has a personal tutor with rapid, individualised responses to queries and issue. We know that this is the most important aspect of our success.
This is of course reflected in our successes, both as a company and as achieved by our students on an individual level. Premier Training examination success rates are significantly higher than AAT published worldwide rates – in many units around 30 percentage points higher. In traditionally 'difficult' units we perform particularly well – in the synoptic assessments our success rates are 10% higher at Level 2, 25% higher at level 3 and 21% higher at Level 4. In Personal Tax our success rate is 85% (almost 20% higher than the worldwide average), and in MDCL it is 73% – again, this is 20% higher than the AAT worldwide average.
We know from our feedback (gathered through our internal research and through Trustpilot reviews) that our students really value our expert advice, prompt response, individualised and quick feedback, excellent learning materials, copious on-line aids, additional sample exams, friendly and supportive expert tutors, superb after-sales service…the list of what our students appreciate goes on and on. But we believe that it all boils down to just one thing – when a student joins Premier Training they are doing so much more than buying a training course. They become an important part of a family unit, where we take the Distance out of Distance Learning.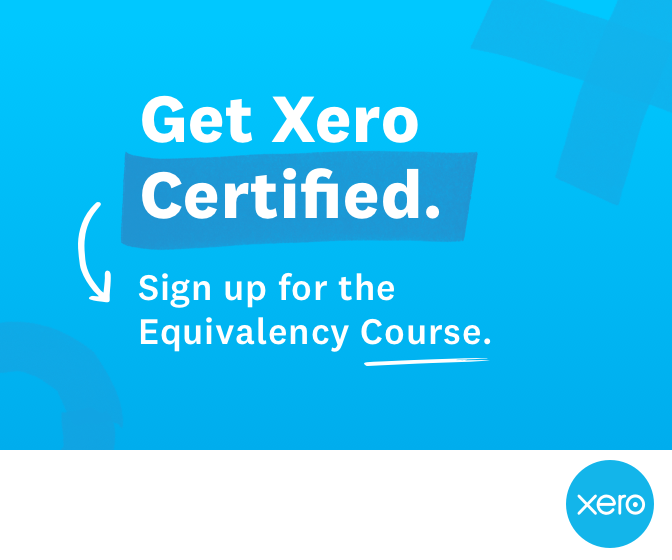 Premier Training has teamed up with Xero and is pleased to offer the Xero Advisor Certification Equivalency Course FREE OF CHARGE to anyone who enrols with Premier Training.
Xero is a cloud-based accounting software which connects people with the right numbers anytime, anywhere, on any device. For accountants and bookkeepers, Xero helps build a trusted relationship with small business clients through online collaboration. Xero has over 1.5 million subscribers worldwide who have transformed the way they do business.
This free course will be an excellent addition to your CV and it is FREE so you have nothing to lose and everything to gain.
For more information regarding free Xero training please contact our friendly course advisors via the contacts us page, live chat below or call us on: 01469 515444.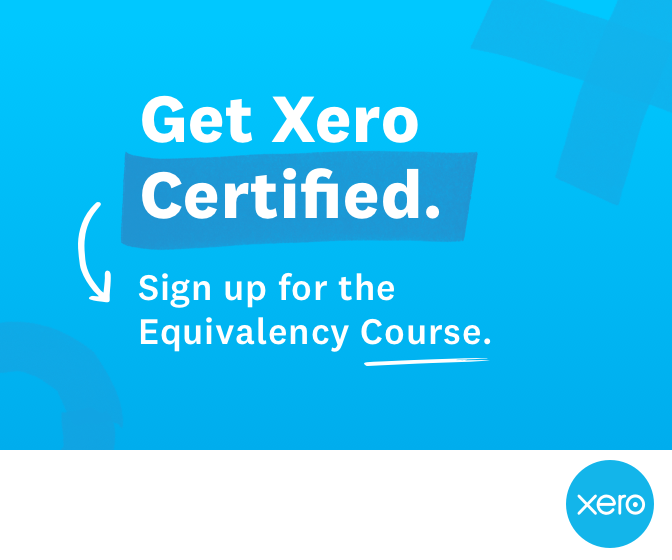 Here at Premier Training, we are proud to say that two of our students so far have achieved the AAT's prestigious Student of the Year Award! Find out more about their journeys and achievements below:
Jessica Leyland – AAT Student of the Year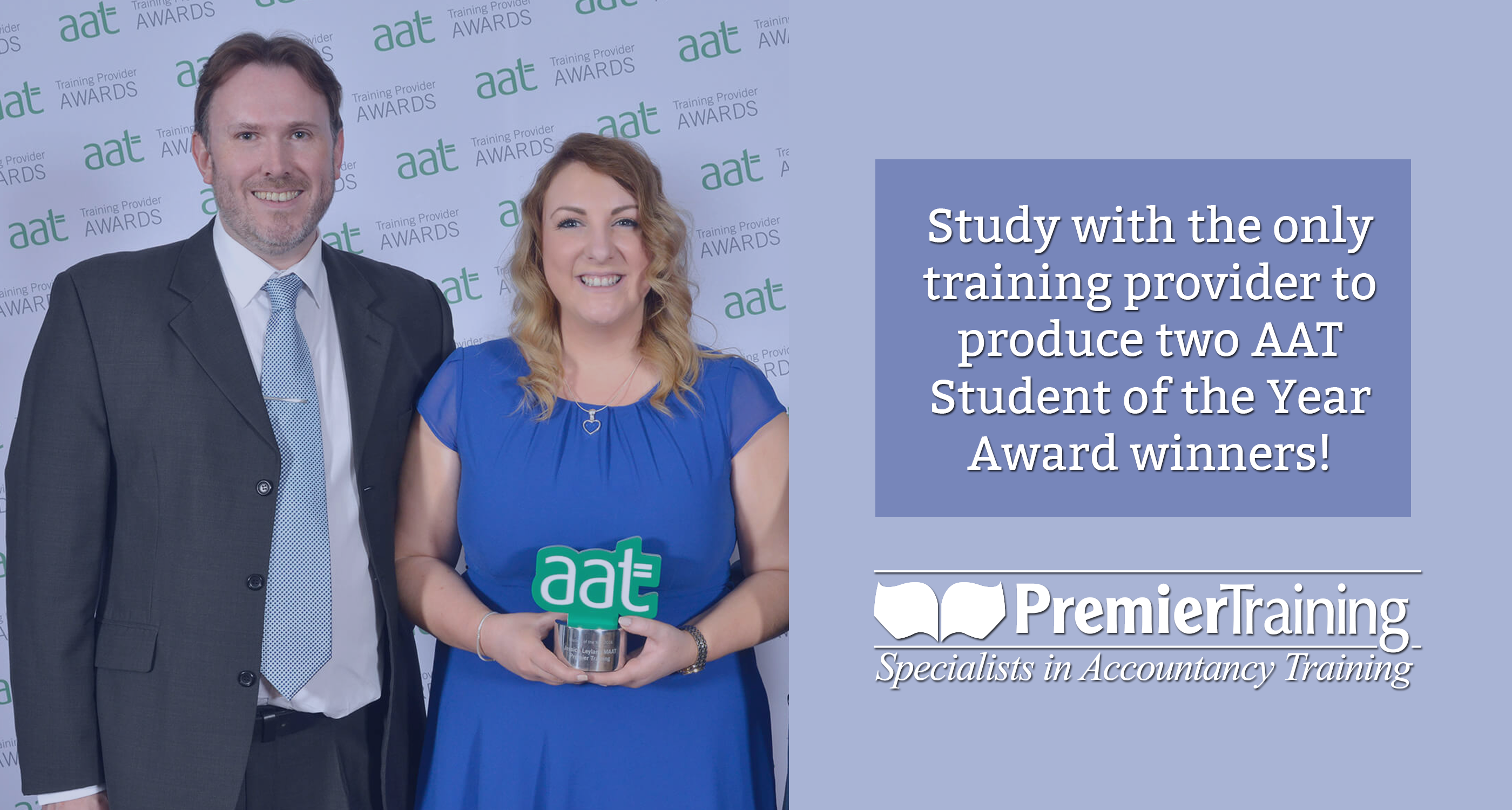 Jessica (Jess) Leyland enrolled with Premier Training on 30/01/15 on the AAT Level 2 Certificate in Accounting and achieved her AAT Level 4 Diploma on 03/09/15. This means it took Jess a little over 7 months to complete and achieve these three levels. Whilst this in itself is a remarkable achievement, Jess has been an exemplar student and I would like to explain further why she, in particular, deserves recognition.
History: Jess had previously studied basic accounts through the Open University and managed to secure employment in a finance role on this basis. Her employer soon recognised that Jess had huge potential and would be a valuable asset to their business. Wanting Jess to have the right skills for the job, they agreed to invest in her development, choosing the AAT as the ideal way to do this, resulting in her subsequent enrolment at Premier Training. Furthermore, her employer also decided to develop and expand her job role at this point and despite these new responsibilities, she was able to combine her studies with the added pressure of further on the job training. However, Jess, recognising this huge opportunity, and due to the increased reliance on her by the business, applied herself almost full-time to her studies outside of work; in order to learn her subject well and achieve her goal of MAAT status in as short a time as possible and benefit her employer.
Jess returned her first assignment 6th February, and in total completed 64 Premier Training Assignments over the three levels. During this 7 month period, she also successfully gained competency in the 16 AAT Assessments and in her ICAS project.
We are happy to 'fast track' students where they show a significant aptitude for learning and, in Jess's case, I was more than happy to accommodate this. As Jess's Tutor, I soon noticed she was an exceptional student, however, for Jess this has never been about achieving a few lines on her CV. Both her employer and Jess recognised the AAT as the route that would equip her with the necessary skills they needed for their business as well as being beneficial for her career.
Jess showed incredible determination to succeed and there is not one aspect of her AAT journey that I can fault. I couldn't be more proud of one of my students in her attitude and commitment towards learning. She applied herself 110%, always takingon board my feedback and advice; even slowing her pace (!) when I felt she was not understanding the subject to the required standard.
Jess continues to work for the same employer as Business Operations Manager (£2.5 million annual turnover). Jess oversees all financial and management accounting functions, involving monthly meetings with Directors and has recently worked closely with external accounting firms on the year end accounts.
I believe Jess's journey with the AAT demonstrates how valuable the Diploma pathway can be, the opportunities it provides and how it can change lives. Jess is a fantastic example of this in everyday action. We are delighted to be able to nominate Jess and are incredibly proud of her achievement. Furthermore, I strongly believe highlighting Jess's story would give students and business alike, confidence in the opportunities AAT can provide, and Jess would make a fantastic ambassador / role model in this respect.
I genuinely hope that her achievement can be recognised nationally, by awarding her the Student of the Year Award for 2016.
Since completion, Jess successfully applied for MAAT status, and describes her learning journey as one of the most valuable experiences she's ever had which she enjoyed tremendously.
Peter Clarke
(AAT Course Tutor)
Tamara Salter – AAT Student of the Year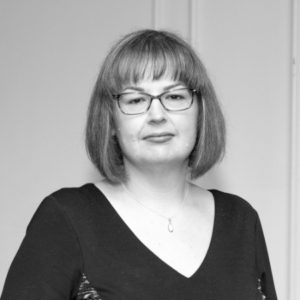 We are immensely proud that Tamara Salter has won  AAT Student of the Year. She really is an inspiration and her hard work and dedication has proven that anything is possible.
We congratulate you and wish you all the best for the future.
If you'd like a chance at becoming the AAT's next Student of the Year, enrol with us today!
Click here to find out more about our courses or click here to request a call back from our friendly Course Advisor team.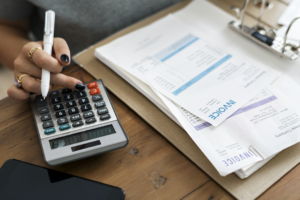 The AAT full membership (MAAT) is an internationally recognised status within the Accounting and Finance Industry and is highly regarded by employers.  It shows that the individual has achieved a high standard of education and experience as well as commitment to keeping those skills and knowledge updated through industry-based activities.
There are 4 steps to take in order to obtain MAAT.
 1 – Work experience
Documenting your work experience is vital evidence to show that you have put your knowledge and skills gained from your qualification into practice.There are set criteria's that you must meet to demonstrate competence, including a technical competence which means you must have at least 6 months work experience and must be verified by your employer. The other areas of competence are verified by the AAT. All experience must be within the last 5 years and can include voluntary or self-employed work.
For more information on suitable work experience read the AAT's document 'What work experience do I need to become a MAAT'
2 – Reference
The AAT require a professional reference. The referee should have knowledge of your work, should work within a senior position to you and have had a working relationship with you for a minimum of 6 months.
The AAT can accept references from a friend or relative if they are a qualified accountant or AAT licensed member.The person providing the reference can be the same as the person confirming your technical competence from step 1 if necessary.
 3- Declaration
On application, there will be questions to answer that are set by the AAT in order to measure suitability along with a declaration to sign.
4 – Payment
The final part of the process is to ensure your admission and annual subscription fees are paid.The fees are set specifically for MAAT and the pricing can be found here. You will need to maintain payment for the annual fee in order to ensure your MAAT status remains current.If you already have membership as an affiliate the AAT will only change the full member rate once your current annual membership expires.
What happens next?…
The AAT will confirm in writing if your MAAT status has been approved.  If approved they will send you a certificate and welcome pack. You can then choose to become a licensed member and can find all the information you need to know about that option here.
If you would like any information on getting started with your AAT studies and starting your Accounting career today you can call our Course Advisor Team on 01469 515444.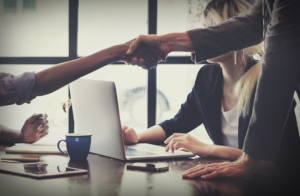 One of the most common question students or potential students want the answer to is 'what jobs can I do after each AAT level?'
While the level 4 Professional Diploma in Accounting is the highest AAT qualification, there are still many jobs and careers you would be employable for after completing the Foundation and Advanced levels;
The AAT Foundation Certificate in Accounting can lead to employment as:
Accounts Administrator
Accounts Assistant
Accounts Payable Clerk
Bookkeeper
Payroll Administrator
Payroll Officer
Purchase/Sales Ledger Clerk
Tax Assistant/Trainee
Trainee Accounts Technician
The AAT Advanced Diploma in Accounting can lead to employment as all of the above and:
Accounts Payable and Expenses Supervisor
Audit Trainee
Credit Controller
Finance Assistant
Payroll Supervisor
Practice Bookkeeper
The AAT Professional Diploma in Accounting can lead to employment as all of the above and:
Assistant Financial Accountant
Commercial Analyst
Cost Accountant
Fixed Asset Accountant
Indirect Tax Manager
Payments and Billing Manager
Payroll Manager
Senior Bookkeeper
Senior Finance Officer
Senior Fund Accountant
Senior Insolvency Administrator
Tax Supervisor
VAT Accountant
This doesn't mean your Accounting studies have to stop at level 4 of the AAT. You can find out about your options after the AAT here.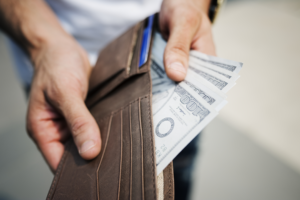 In the 2017 AAT salary survey, 77% of students agreed that studying for an AAT qualification has increased their earning potential.
If you want to gain a recognised qualification and boost your salary and career prospects in the process – AAT is the right place to start!
You can view Premier Training's AAT Accounting courses below
AAT Level 2 Foundation Certificate in Accounting
AAT Level 3 Advanced Diploma in Accounting
AAT Level 4 Professional Diploma in Accounting
If you would like any information on getting started with your AAT Accountancy studies, call Premier Training on 01469 515444 or visit our website at www.premiertraining.co.uk


Every student who enrols onto an Accounting course with Premier Training will receive their own MyPTA (My Premier Training Account) to access our award winning resources. Navigating through this could not be easier but this guide will take you through the easy steps and benefits of your MyPTA account.
After enrolling you will be sent your own personal login details and a link to follow. You can always login through the Premier Training website also using the drop down menu at the top of the screen.  You can login 24 hours a day 7 days a week!
Once you have logged in everything you need is one click away. Click on the button to begin your course


You will find quick links on the left for simple navigation to everything you need including your instalment plan, timetable,
Tutor details,Course Advisor details and resources.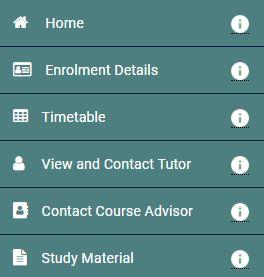 This first thing every student must do is read the How to Guide; this will make your journey through the course much easier. It explains everything you need to know and more, including how to get started, assignment grading, how to register with AAT, how to book exams, jargon buster, contact hours and numbers.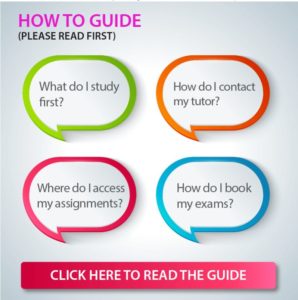 So now you are ready to get started.  Underneath the How to guide all of your resources are just a scroll away.
Locate your first unit and click the graphic to load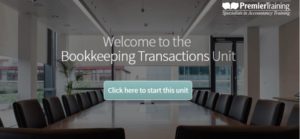 Everything you need to complete the unit is located in this area so navigating through the chapters and assignments is straightforward.  To make it even more effortless we have included some quick links so you can navigate quicker to the areas you need including timetable, quick messaging for your tutor and assignments.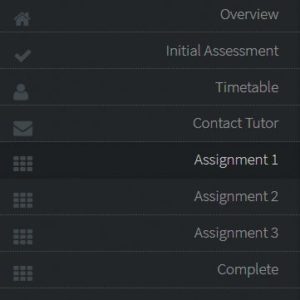 With our Award Winning resources for every chapter within our books you will find these available online with videos, help sheets and quizzes to help enhance your learning experience. Some of our units even have audio books and download books. Studying on the go has never been more achievable!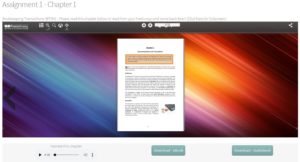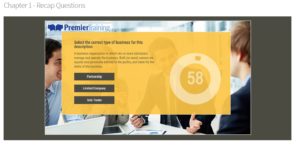 Each assignment completed is hand marked by your tutor, this ensures every student receives unique feedback with advice tailored to their needs to assist in making efficient use of your study time with attention and time spent on the precise areas it is needed. We want all of our students to pass their exams first time so our tutor feedback is vital and the results of how great our feedback is shows in our AAT success rates.
Every student also gets Access to our Award Winning 'Premflix' platform where you can find a whole library of videos,
webinars and quizzes at your fingertips!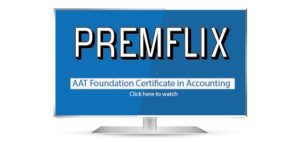 It does not end with our Award Winning resources. We have an additional area where you can recommend friends/family and colleagues to receive rewards and an area specifically dedicated to resources/advice on career development.
We really are the full package!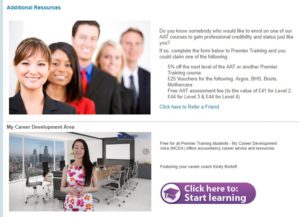 If you would like your own MyPTA account you can get started today within one hour.
Just call our Course Advisor Team on 01469 515444 or email info@premiertraining.co.uk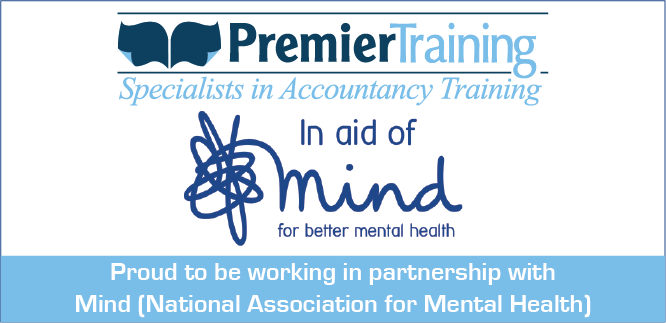 1 in 4 people suffer with a mental health condition, with the greatest cause of death in men under 35 being suicide. Statistics like these made Premier Training want to show their support and contribute towards a charity that focuses on supporting those with mental illnesses.
Therefore, we are proud to announce we have partnered with the charity MIND to help raise funds and awareness of a cause that can impact on so many lives.
Studying can be one of the causes that can contribute towards a mental illness or can potentially jeopardise someone's studies because they already have a mental illness. This is why MIND say it's #oktosay.
Whether you are studying via distance learning or other means it is important to let your tutor know you have a mental health illness. This will not impact on your studies but enhance your learning experience as you will be supported along the way and adjustments can be made if necessary to ensure you complete the course successfully. #youarenotalone
At Premier Training we pride ourselves on the support we offer students who at times are struggling and may need some support and encouragement. Our 1 to 1 sessions have proven popular with many students who for varied reasons have needed that support. #supportforall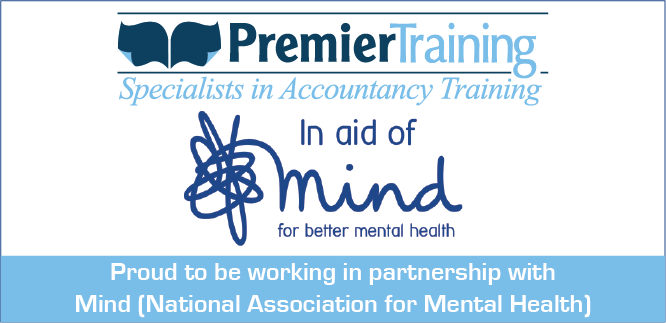 During the summer of 2016 my Wife Julie and I were on holiday in Argeles-sur-Mer on France's Mediterranean coast. The weather was spectacular, and on a whim, we decided to hire bikes to allow us to more comprehensively explore the area, without having to resort to a car. We thoroughly enjoyed the experience and even relied on our newly found freedom to go out in the evenings. On our return home, we continued to go out for weekend rides on a couple of very ancient Raleigh's that were more than past their best.
By mutual consent and after waiting for the "Black" Friday deals we bought two Hybrid bikes as joint Christmas presents. Despite being in the depths of winter we continued with infrequent rides whenever the weather wasn't too bad. My commute to work is a 32 mile round trip and it occurred to me that riding to work and the accompanying benefits to my health and the environment were eminently achievable. Towards the end of February 2017 I cycled to work for the first time, and found the going very difficult. I'd planned to ride just one way and left my bike at work to collect the following day.
With a Son and three Son-in-Laws, two of whom were very capable riders, I couldn't help but feel some embarrassment at my feeble attempt, and decided to increase the frequency of my rides. From a work colleague I heard about the "Love To Ride NE Lincs" initiative to encourage people to cycle to work, and increased my number of commutes; round trips, not just one-way. By the end of August I was close to riding 1,500 miles and the temptation to acquire a more streamlined bike was just too much to resist. One of our Son-in-Laws was upgrading his bike and I bought his old one; not the lightest top of the range model, but it certainly allowed me to increase the range and frequency of my rides.
During a team meeting towards the end of the year our Operations Director, Rose Crockett, expressed a desire to see us play a more active role in helping the local community and raising money for charitable organisations. We were already sponsoring a local football team, and from my communication with AAT students, I'd noted how frequently the subject of dementia came up. How difficult it could be to fit study time around caring for a relative was a frequent area of concern. I mentioned this in the meeting, and Rose's immediate response was something along the lines of "if you go in for a 100 mile organised event, the company will double whatever you raise". I accepted the challenge and agreed to look at what was available locally.
Through the Summer and Autumn I had ridden two short Sportives organised by Sportive HQ, and hadn't really paid any attention to their more demanding rides. By coincidence, over the Christmas period of 2017 I was challenged by one of our Son-in-Laws to complete the 100 mile ride as opposed to the shorter one, at the Flat n Fast 100 Sportive in June 2018; I was now committed to the 100 mile ride. I fully expected to be the last one of our group of four to finish the ride, and by way of compensation, I wanted to take something positive from the experience. Dementia is a truly awful condition and one that seems to be affecting a growing number of people and families. This was my opportunity to play my part, albeit a very small part, in helping to raise funds for what is truly a most deserving cause.
After accepting the Flat n Fast 100 "challenge" my first step was to search online for articles about successful cycling for people in their fifties. This led me to the "Time Crunched Cyclist" by Chris Carmichael which promised to fulfil my objectives of improving my performance with only limited time available. I read probably half-way through the book when he commented that the "Time Crunched Training Programme" works, but not as effectively as having a local qualified coach. I had heard of Vicky Loftus, a local coach who devoted a lot of her time in our local community to supporting inexperienced riders and children to be able to cycle confidently and competently.
I contacted Vicky in early February and she agreed to support me with training for the ride. I promptly received the outline of a 16 week training plan and at the end of each week a revised plan for the subsequent week. My main concern was that I may not be able to actually ride 100 miles and how disappointing that would be for the people who I hoped would sponsor me. My goal was to ride the 100 miles within a moving time of 6 hours, and this was specifically what Vicky's plan focused on. The training was gruelling and involved being on my bike by 6:00a.m.five days a week with different training goals depending on my previous week's performance. In the last five weeks prior to the Sportive I cycled just over 1,000 miles followed by a short period of recovery prior to the big day.
Despite the earlier forecasts for June 2nd looking very promising the weather didn't disappoint; it started with a light drizzle and within an hour heavy rain. It was a very demanding ride and when the going got really tough I concentrated on the goal of being able to raise as much money as I could, and not completing the 100 miles just wasn't an option. The weather improved in the second half of the ride and by 75 miles I had just about "dried off". I don't recall ever being quite so filthy but at least it started to flake off as my clothing dried.
As I rode through the finishing line I hardly dare look at my cycling computer, but there it was; 100 miles in 5 hours 32 minutes. Quite unexpectedly, as I approached the finishing line I was almost overwhelmed by emotion and I'm still not quite sure why. I was desperate to complete the 100 miles, conscious of the fact that my sponsors had donated on this basis, and I think it was this relief on finishing that prompted the emotion.
The following Monday Rose came to see how I'd got on and what the sponsorship to date was. Within 10 minutes of her leaving our office the total raised had doubled. After my JustGiving page closed the total raised had reached £1,222.25; far beyond my original expectations. In one of her final emails my contact at Dementia U.K., Rosie Watson, quoted Janet a dementia sufferer,
"My Admiral Nurse was the one who comforted me, who listened in a compassionate manner, who advised and gave me information that other professionals had failed to supply, who found the time to try and explain and understand my mental turmoil. Knowing that she is there for me is a great reassurance. Words cannot express my debt to the Admiral Nurse" Janet.
I didn't approach my AAT students directly but Premier Training's Facebook page had updates on my training progress and I was genuinely touched by the number of my students that sponsored me.
Richard Sharp
(Premier Training Tutor)


What is CPD?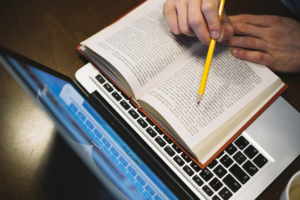 CPD is a very important part of any career. It allows individuals to keep their skills and knowledge up to date with any relevant changes within the industry. The process of CPD is assessing each year your learning needs, attending suitable training to meet this and documenting the skills/experience gained. Monitoring and Completing CPD is the responsibility of the individual. CPD is good practice within any Industry, but for AAT Accountancy Affiliate or Professional Members, it is compulsory.
What will I gain from CPD?
For those seeking employment or self-employed and looking to expand a customer base, CPD will show that you are up to date on all Accountancy practices, you are driven as well as organised and that you set your standards high for yourself.
For those employed in the Accounting Industry, it helps to develop and skills and knowledge could save you time with tasks by learning new skills, will boost integrity and also confidence. For the employer, it ensures all staff are following current legislation which means that the employer will have trust in their employees and staff who are satisfied with their job. Generally, employers also find when supporting CPD within the workplace the performance of the finance team improves.
How can I complete CPD?
AAT has numerous resources you can complete in order to gain the CPD required. This includes online resources and also regional events. Many of the online resources take only one hour to complete from home so there are options available to suit everyone. Here is an example of the resources available with the AAT:
AAT's CPD events
AAT's online CPD resources
CPD master courses
CPD workshops
AAT conference
CPD webinars
Local AAT branch meetings
Connect events
CPD e-learning
Excel e-learning
CPD interactive hub
Technical and ethical advice
AAT podcasts
Career resources
UK Budget resources
AAT forums
AAT Comment – industry news and opinion
Accounting Technician magazine
AAT Social Media
You can check out all the AAT upcoming CPD events here.
How do I track my CPD?
Recording your CPD is your own responsibility but to make it easier the AAT have created an online CPD record tool which you can access within your AAT account. Alternatively, you can download free online templates online including this one from the e-learning marketplace. It does not have to be complicated as long as you evidence the area for development, activities planned to meet this, date completed and hours that count towards CPD.
Check out the AAT'S video on how Continuing Professional Development can boost your skills to help achieve your goals:
https://www.youtube.com/watch?time_continue=29&v=AV3BiGpqOv0
If you are interested in starting a career in Accounting give Premier Training a call on 01469 515444 to discuss the options available and study with an AAT award-winning provider.