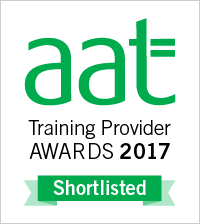 Claire Read is a mum of two, married to a serving police officer.  Police officers shift patterns place a considerable strain on family life.
Claire joined us in October 2014 and completed level 2 in August 2015, achieving high grades throughout the course. At this time Claire's youngest son Joe started school. Having always been a lively boy Joe was diagnosed with autism and additional needs and as a result he was very unsettled at school and at home.  For a year Claire did not get a night's sleep and as a result of this progress did slow down.
Claire took the decision to take a career break to enable her to look after Joe full time and at the same time resolved to complete her AAT studies.  In Claire's own words "AAT is my goal and I'm not going to let anything stop me from completing".
Claire is happy for us to reveal also that she has recently been diagnosed with dyspraxia.  This means it is more difficult for Claire to absorb and retain new knowledge. Topics that many of us pick up quickly take Claire three or four readings to absorb. This means Claire has to work much harder than most. Nevertheless Claire achieved high grades in her level 3 assignments building on her remarkable achievements at level 2.
Due to Claire's family situation Claire cannot simply book a day's leave each time an exam has to be completed.  Claire therefore arranged to complete the first three level 3 exams in one sitting. On 26th January Claire caught the train at 5.40am  she passed ACPR, FSTP and ITAX all with excellent marks and returned home at 11.30pm.  We feel Claire has shown exceptional determination despite facing much greater challenges than most in her position. Many candidates for this award have outstanding ability and huge determination to succeed and combine this with the opportunity to dedicate a large part of their time to study in order to complete the course in a very short space of time.
Claire is different in that she is a Mum first and foremost and has a vital role as the main carer for her disabled son Joe. She also has a husband whose important work means he has to be away from the family for long hours on varying shifts.
Following Joe's diagnosis Claire took the brave step of negotiating a career break from her employment so that she could manage Joe's difficult transition from home to starting school.
Despite all this Claire has shown immense dedication to keep going with the course when many others would simply have given up. Furthermore, Claire has consistently submitted work of outstanding quality at level 2 and 3.
Because it is very difficult for Claire to take a day away from her family commitments Claire took the unprecedented step of sitting three level 3 exams in one day.  This was successfully completed a few weeks ago and we are currently looking to get the remaining exams completed when the opportunity arises. We feel Claire is an absolutely inspirational figure who demonstrates what can be achieved with enough determination regardless of whatever obstacles are put in her path.
We feel that many others could draw great strength and encouragement from Claire's story.
Jeff Grimston (AAT tutor)
Premier Training