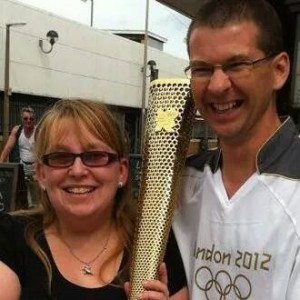 Hi all, let me introduce myself, my name is Natasha and I have been registered as a student with Premier Training since Feb 2013.  This is when the madness commenced!!  Not content with just being a wife, mother to our 10 year old x-box obsessed son and full time Accounts Manager for a busy seaside company who owns arcades/restaurants and pubs, I decided to throw studying level 3 in to the mix!! With what I may say, mixed results!
I started with AP 1 on a high and gaining respectful marks on my first tutor marked assignment. The journey continued okay until the day I met…….accruals and prepayments!! Oh boy, you got to love them or hate them!!  My love of them was about as much as picking the correct lottery numbers but not having bought the ticket!!  This fear was suppressed by my tutor, Premier Nick…opps I mean Nick Craggs! (He won tutor of the year award and even has a trophy on his desk to prove it lol!).  He did his best to try and break this subject into smaller bites in order for me to understand.  I still shudder today at the words accruals or prepayments!  The plan is, as with all units is to follow the timetable which can be completely flexible to your requirements, then take the exam at the end of the unit whilst the unit was still fresh in your head……nope didn't do that. Again fear of taking exams took over and I then continued on to study AP2.  Again, here, oh the joys of the second tutor marked assessment that Premier had at the time.  All about missing account figures.  I felt at the time it was horrible, but in hindsight, without premier pushing me, I don't think I would have passed that exam and being prepared for any random question thrown at me!!
Back to the exam, finally in October, I took the courage to finally book my exam for AP1, by this time, I had virtually forgotten everything that I had learnt previously which meant having to relearn the material again.  There is a really good lesson to be learnt from my mistake here, try your best to take the exam at the end of your unit whilst the information is still fresh and not locked away in the abyss of your mind somewhere.  I think it cost me around 6 months study time!
Fortunately, to my utter amazement, I passed AP1 & AP2 first attempt, and even more amazement when in February, I passed Costs and Revenues 1st attempt with quite a few exceeds for good measure.  This is when the bubble burst!!  Two weeks later, assuming that prior knowledge and listening to others on various forums was enough and although I studied the material, I fell in a false sense of security when taking Indirect Tax.  My haste to finish level 3 and taking for granted that I only had to top up my knowledge not completely relearn it, meant I had failed my first exam.  To say I was totally disappointed was an understatement. I felt I had let myself and Premier Training down. I could have really given up at this stage, but I didn't.  I wasn't going to let this set back get me down.  Yes, I made a mistake, but I had the power to change it.  So I booked the resit for three days later. And wow, I passed…lesson learnt well and truly!!
My Next challenge was in March of this year and to take Cash Management, Professional Ethics and Spreadsheets exams all on one day!! Major fail!! I only achieved passing the Spreadsheets exam.  Do not be complacent about spreadsheets!! It is hard and I cannot stress the importance of formatting in the exam which will gain you valuable marks.  Also, look at the scenario, do the figures you're generating reflect the situation or are they unrealistic, remember, it is an accounting exam!!
I can only describe Professional Ethics as marmite….you either love it or hate it!! Completing the old standards exam for Professional Ethics was supposed to be easier than the new 2013 standards but when they throw a curve ball into the equation and asked me lots of questions on the Bribery Act, which the Osborne books only touched (a small paragraph), I was stumped!!
Another lesson learnt, don't try and do everything in one day, as they say Rome was not built in a day and this is not a race but MY journey.  Two weeks later I retook Cash Management and Professional ethics and on 16th April 2014 I was pleased to hear that I had passed and become a level 4 student…..yes I was finally on Technician Level!!  Even more proud when the certificate arrived last week in the post!!
I had attempted to complete this level in 2000 and 2001 and gave up.  A lot has changed in the way AAT is taught since then but feel Premier Training, Jane Hasler, Nick Craggs and his partner in crime Neil Concannon, were the ones who helped me face demons and reach the other side victoriously!!
Don't give up when things don't go right.  Things happen for a reason and for me, it made me appreciate every single pass all that more and as Nick Craggs keeps telling me…..READ THE QUESTIONS!!!!  Take your time when studying to digest what you are learning, use your tutor to help you along the way, and always have a goal, remembering why you chose this path you walk on.
Use all the resources that are available to you. There are groups on social media sites for student banter, there are many helpful sections to the AAT site with mock exams and green lights, Osborne have great questions and of course, Premier have made MYPTA for you to use from anywhere, at anytime.  I love my gadgets and having access to all this help and advice along with the course books, text books etc on my ipad is like having Premier and the AAT at your beck and call 24/7!!
Good luck with you studies.
Natasha



In February 2013 after approximately 20 years since leaving school I took the plunge and signed up for AAT Level 2.  Fast forward to October 2013 and I finally received my final exam result for AAT Level 4 and there it was in black and white – Donna Smith MAAT.
I had worked in a finance office for several years without any formal qualification but the time was right to start doing something for me after bring my son up, who's now 18 years old. Initially when I signed up I wanted to prove to myself that I was competent in what I was doing but now I want career progression, which is where my next journey is taking me.
Completing the AAT in 8 months wasn't easy whilst working full time and looking after the family home but with the constant support from my family, friends, employers and Premier Training it was all so worthwhile.
Winning the PQ Magazine Award for Distance Learner of the Year 2014 just topped it all off.  Next year this could be you, even a nomination is an achievement in itself.
So here are a few tips to help you get through:
Use your tutor, that's what they're paid for, it's hard not being in a classroom environment but they're always there for you.
Don't be afraid to ask for help, we all have our "dark moments" when we think we can't carry on because we can't get our heads around something. Even if you think it's a really silly question please ask, your tutor will not think any less of you. Remember they were all students at some point.
Don't study when you're tired, the chances are nothing will register.
Study breaks, make sure you take them and you feed your brain.
Use all resources available including the AAT websites, Green Light Tests and the Practice Assessments. There are also practice questions on the Osborne Books website which I found to be invaluable.
If you want to succeed you will. Nothing is impossible in life but we all have to take different journeys to get to the end result.
Good luck to you all with your studies and hope this helps.
Donna Smith MAAT