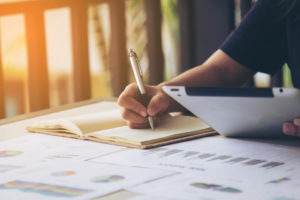 Preparing yourself to take AAT assessments can be a nerve-racking experience, so here are some steps to help breakdown the process and hopefully make it seem a little easier.
First step – Be ready
This may sound obvious to most people, but make sure you are ready for the assessment.  You need to be confident in your subject knowledge and feel confident in yourself.  If you are that's most of the hard work done.  Confidence is key!
Second step – Revision
Make full use of all the resources you can access. Do not forget with Premier Training you can access assignments and practice assessments which lead to valuable tutor feedback. You also have a whole list of resources on the AAT website all included as part of your AAT subscription including green light tests, webinars and sample assessments. You may find it useful to read the AAT course specification. Practice makes perfect!
Third step – Book the assessment
So, you are now ready to book your assessment.  Booking an assessment on a personal/occupational day is not a good idea. Choose your assessment date wisely and smartly. Ideally, an assessment should be booked on a personal/occupational stress-free day were possible. You can use any AAT assessment that is listed with the AAT, there are hundreds in the UK and all over the world so finding one convenient should not be a problem. You can search for your nearest centre here. Please be aware of the following:
The AAT set the costs for AAT Assessment fees but the assessment centre will charge an additional administration fee on top of this. You may want to remember this in mind when comparing centres.
Using Accounting Software, all Synoptic and all Professional level assessments are subject to up to six week marking process and marked directly from the AAT. Once graded your results will be found in the results section of your MyAAT account.
Fourth Step – Attending the assessment
A common question is what students are allowed to take into the assessment centre room. Assessment centres will allow non-programmable calculator and pens/pencils but it is always worth checking with the assessment centre as they operate independently so may have different policies.   Assessment centres may offer paper for calculations but this is for use only in the room. You cannot take any notes out of the room and the notes will be shredded after the assessment. It may also be a good idea upon booking the assessment to enquire as to whether drinks are allowed to be consumed during the assessment, should you wish to take a drink with you.
We wish you luck with your all of your assessments! Do not forget if you are a Premier Training student to keep your tutor updated with your assessment results so we can celebrate with you!