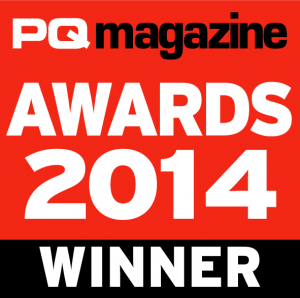 It's been a great start to the year for Premier Training!
We've scooped up two prestigious PQ magazine awards: "PQ Study Resource of the Year Award 2014" for our online 'My Premier Training Account' and "PQ Distance Learning Student of the Year 2014" for Donna Smith.
MyPTA (My Premier Training Account) which is available in both desktop format and as a mobile App, is an innovation in distance learning, reinventing the methods in which students can learn accountancy effectively. MyPTA is like having a personal tutor, a library and a classroom all in your pocket. It enables you to access learning at anytime and in any location 24 hours a day whenever you need to study!  Read more information about MyPTA here
In less than a year, Donna completed levels 2, 3 and 4 of the renowned AAT qualification – wanting to upskill and gain a formal qualification after working in a finance team. Commenting on receiving the award, Donna said: "I'm delighted to receive this recognition. My family has always been my priority, so looking after them whilst working full-time and studying was challenging at times".  Read more information about Donna Smith here
Premier Training and Donna scooped the accolade at the annual PQ magazine awards evening held in London on Monday 27 January 2014. Here are some photos of the event:
PQ magazine awards acknowledge high standards
Every year PQ magazine recognises those within the accountancy and finance sector who have gone above and beyond, or made remarkable achievements. The awards cover a range of categories including Distance learner, Accountancy College and Accountancy team of the year.