Don't think you need more self-discipline and motivation for distance learning! It is just as easy to make excuses not to attend class as it is not to study at home. In fact, you have more excuses: "the weather is too poor to travel to class", "my child is feeling under the weather, I'd better stay at home", "I have to work late"; and there are much more. In all of these cases, you can still study at home and not fall behind!
Don't worry about losing student to student interaction. There are many social media platforms with online student communities. There are blogs, Facebook pages and the AAT and BKN discussion forums to mention but a few. Many of our students form study groups with students who live locally, take it in turns to study at each others home, put out some nibbles and make a little event of it.
There are so many reasons why distance learning is more popular than classroom-based courses. Unfortunately, not everyone understands the benefits and doesn't even consider distance learning an option. From student feedback we have highlighted the most popular reasons students are now choosing distance learning instead:
You can start your studies any time of the year and possibly complete in half the time or less!
Cheaper course fees that you can pay by instalments.
No commuting or travel expenses.
No more struggling to find a reliable babysitter and childcare expenses.
You don't have to miss any family or social events because they fall on the same day you attend class.
Even when you attend classroom courses you still have course work to do at home anyway.
One to one instant access to tutor support, late evenings and Saturday morning.
No fighting another 30 or more students for your tutor's attention.
Ask as many questions as you need without feeling embarrassed in front of a class. Your Premier Training tutor will spend as long as necessary explaining without the rest of the class becoming impatient.
You decide when and where you study. You can make your routine fit around your schedule.
Spend extra time on the topics you find difficult and move quickly over areas you find easy. You needn't spend ages listening to explanations on topics you are already confident with.
Study from anywhere in the world at any time and in more familiar and comfortable surroundings at home.
Earn while you learn. It is much easier to complete distance learning courses while working. Keeping your job gives you more income, experience, and stability while you completing you qualification, giving you less to worry about and more time to focus on your studies.
You can access your study material 24/7 online which means you don't have to carry numerous books and course notes with you everywhere.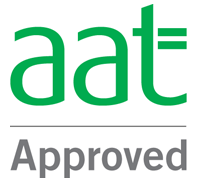 AAT courses in accountancy give you practical, internationally recognised finance and accountancy qualifications that can open doors for you in any industry.
Get the practical accountancy skills employers want with an AAT distance learning qualification, you don't need previous qualifications or experience to study AAT courses. You can work at a pace that fits in with your lifestyle. Whether you're looking for your first job in accountancy, work self-employed, or simply want to enhance your existing accounting skills, home study/distance learning AAT online courses will give you the skills you need.
AAT training offers you a route into chartered accountancy, if you choose to further your studies with one of the leading chartered professional bodies, such as ACCA, CIPFA or CIMA, your AAT qualification will give you generous exemptions.
AAT Courses
Please select the following approved AAT courses below for more information:
(If you are a new AAT Accounting student starting at the Foundation Certificate Level. Or you are a current AAT student and wish to continue your AAT studies on the AQ2016 standards launched 1st September 2016)
Accounting Courses
Bookkeeping Courses
If you are unsure which AAT course level is best for you or would like to know about career funding options, please contact us on the following link: AAT course advice and information.
Move forward in your finance career with an AAT qualification – opening doors to chartered accountancy, university, being self-employed and more. Improve your career prospects and earning potential by gaining the letters that really count. Join the growing band of professional members with full MAAT status.
125,000 global members can tell you why AAT is more than the UK's leading qualification and professional body for accounting and finance staff.