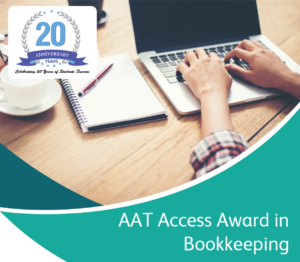 Study with a multi-award winning training provider and the all-new Level 1 access award in Bookkeeping. Ideal for those who wish to re-train in a new profession or those who are self-employed and wish to maintain their own financial records.
The AAT Access Award in Bookkeeping is a new flexible home study qualification launched in January 2018 which can be studied via distance learning or by self – studying.
Access qualifications are an entry point for students who need to develop their finance or business skills. These qualifications are designed to give students the introductory knowledge and confidence to take on a higher level AAT qualification and to progress in their lives and careers. Students should choose to study the AAT Access Award in Bookkeeping if they wish to develop an understanding of the basics of manual bookkeeping. Students completing this qualification may wish to pursue careers in finance or business in either the private or public sectors. This qualification compliments the other qualifications in the suite of AAT Access qualifications and may be combined with the AAT Access Award in Accounting Software to give a strong foundation for further study with AAT in either accountancy or bookkeeping. No prior knowledge is required and the course can be completed in as little as 6 weeks depending on your study time.