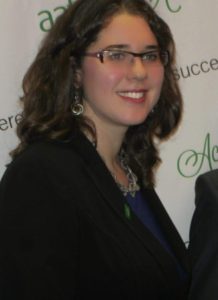 I started in my current role in summer 2010 following a career change from healthcare. I joined the team on a temporary four month contract in customer services for a pharmaceutical company, where my role also involved processing supplier invoices and updating the purchase ledger on SAGE 50 accounts. I enjoyed working with numbers and the high level of accuracy and attention to detail suited me. Before the contract had finished, I was offered a permanent contract due to my positive attitude and impact on the business. My role evolved over time. I booked bank payments on the sales ledger and completed extra tasks when the accounts manager was on holiday.
I really enjoyed the accounts aspect of the job but it was without a relevant qualification, and in early 2012 I decided to do something about it. I wanted a career in accounting and finance.
I carried out some online research and discovered AAT. I wanted to gain skills specific to the industry and enhance my career prospects. I was delighted when I realised I could complete the qualification via distance learning as this meant it would not impact on my full time job. Having been to university twice before, I wanted the freedom of setting my own pace. If I wanted to get ahead of my timetable and give myself time off, I could. If I wanted to give myself a month off regardless, I could! I researched training providers, and started with Premier Training in March 2012, as they were friendly and their course structure easy to understand.
I completed the AAT qualification in under three years whilst working full time.  I became Natalie Adele MAAT in January 2015. I was thrilled to get those letters after my name.  I could finally prove that I had knowledge and skills that were relevant to accounting and finance and that these "hit the mark."  I won a recognition award at work – some of the comments included: "An asset to the company",  "delivers 100% commitment to customers and the business",  "capable of managing nearly all our finance activities", and "functions way above her contractual duties".  Completing AAT has given me confidence.  I feel like I have a lot to offer potential employers and am hoping my next role will be a trainee management accountant, where I can work in accounts full time.
I have thoroughly enjoyed studying levels 2, 3 and 4 of the AAT qualification, so much that I wanted to continue studying, so went straight on to ACCA.   Completing AAT gave me the confidence boost I needed to start ACCA and I was also able to claim exemptions for the first three modules.  I passed my first ACCA exam earlier this year and am looking forward to sitting my second in September.
It is a great feeling when you've mastered something and you have that sense of achievement.  I have my certificates, which are great in themselves, but this is just the beginning.  I would highly recommend AAT to anyone who has an interest in accounts and/or tax, who is looking to start a career in accounting and finance, or progress in their accounting career or who wants to become self employed.
Natalie Adele ACCA, MAAT
Update: since this article has been published, Natalie is now working as a senior accountant and has passed her ACCA modules to become a fully chartered accountant.