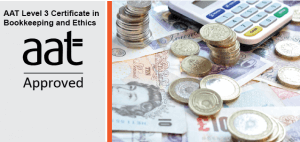 The aim of this qualification is to provide an advanced knowledge of accounting principles and concepts. In particular preparing financial statements for sole traders and partnerships. You will gain advanced spreadsheet software skills, and understand the importance of ethics and sustainability to modern businesses.
This qualification expands the skills and knowledge of experienced bookkeepers, or those who have already qualified on the introductory and/ or the intermediate AAT Bookkeeping qualifications. It can then provide a stepping-stone to a career as a professional bookkeeper. Additionally it offers a progression route to the AAT Level 3 Diploma in Accounting and the AAT Level 4 Diploma in Accounting or alternatively the AAT Computerised Accounting qualifications.
For more information and to get enrolled click here
There are no products in this group.
Updating...