Premier Training and My Premier Training Account (MyPTA) are evolving all the time and here are some examples of what's new for students who study with Premier Training:
Study smarter not harder!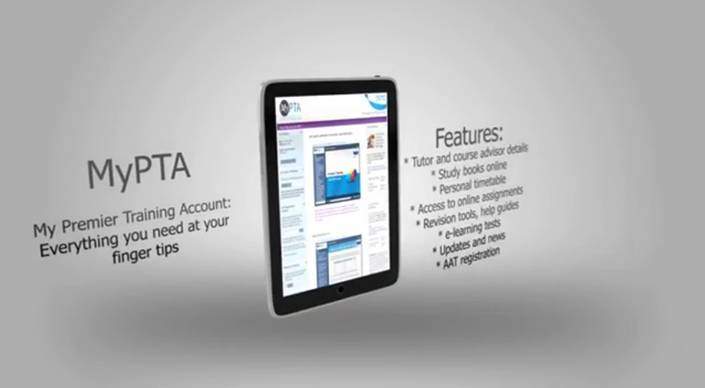 The way we learn information is changing,
at Premier Training we are
embracing new technologies to aid studying via mobile or tablet devices and this allows our students to study at any time and any location.
We have created an overview video which shows you these new features and how you can access them, to view the video of all the our new online features please click this link
Improved Online Assignments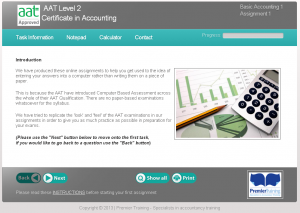 We have improved the online assignments and design so that you can progress through your assignment step-by-step. The online assignments also include useful tools such as an onscreen calculator, notepad and tutor contact details.
We have tried to replicate the 'look' and 'feel' of the final online examinations in order to prepare you for the online format of testing.
To view an example of our online assignments please click here
Interactive Video Tutorials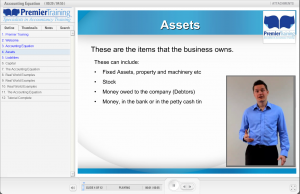 In conjunction with traditional printed books and materials we have created online video tutorials which enhance your learning experience. The video tutorials include video lectures, text and online activities and quizzes which will suit all learning styles.
Each week we are creating new video tutorials covering the more tricky parts of accountancy or from student feedback and requests. If you would like a lecture on a certain topic which you would like more tutoring on you can get in touch.
To view an example of our video tutorials please click here
New Study Unit

We have organised the study modules such as Basic Accounting or Working Effectively in Accountancy and Finance in the order of the online assignments you submit. This gives you a clear progression route that prepares you for your final exam.

 

Online Video Chat

Additionally to full direct tutor telephone support we have added support for video calling via Skype software. Skype can be used on any desktop or mobile device free of charge! Remember you can also contact Premier Training on our late nights which are Monday, Tuesday, Wednesday and Thursdays till 8pm.
For Further Information
For more information please feel free to contact our course advisor team on 01469515444 or visit www.premiertraining.co.uk.
Premier Training – Summer Update 2013