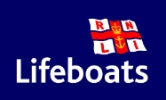 I am attempting to reach the highest point on earth, the summit of Mount Everest from the North side…. because it's there! I will be away for approximately 12 weeks. The reason it is approximate is that I have to wait for a suitable weather window, this is most likely to be mid to late May but the exact date is unknown until the time comes. I left on the 17th March and will return at the beginning of June. Thus far I have done 3 weeks of training on the Nepalese side of Everest including successfully summiting Island Peak a 6189m mountain and I am now completing my training in Tibet where I will mount my summit attempt. I am hoping my endeavour will raise plenty of funds for the Cleethorpes RNLI.
Summiting Mount Everest is a pretty tricky business that takes an awful lot of effort, training and determination. I am already knee deep in my acclimatisation which is going well but is tough and not to be under-estimated. If I can raise money for the Cleethorpes RNLI it would make everyday slightly more worthwhile. Every ache, every pain, every horrible meal, every blister, every patch of sun-burn and all of my muscles will know its a worthwhile pursuit as I am actually making a difference. The RNLI do an awesome job as I'm sure you will agree and I am honoured to support them.

6/05/2015
They have successfully arrived in Kathmandu… One step closer.
4/05/2015
Neil will be leaving Base Camp after a long 9 days and heading to Lhasa (Capital of Tibet) tomorrow. They will hopefully be on their way back to Kathmandu by the end of the week.
27/04/2015
The Chinese authorities have shut the mountain. Neil and team now have the logistical nightmare of how to get back – various routes are closed, inaccessible and impassable, permits are required for other routes, transport is scarce, they still have stuff up at ABC and there are possibly more earthquakes. It's like one of those maths problems with the farmer, the chicken and the grain. It is now just a waiting game BUT he is fine and safe and still completely awesome.
Thank you to everyone for your kind messages and texts. As soon as I know anything, I'll keep you posted.
26/04/2015
Neil and the team have safely arrived at basecamp in Tibet. They are exhausted after a gruelling 7 hour trek but safe.

25/04/2015
Neil's just called. They are ok. They felt it and it made their table and dinner shake considerably! They have felt subsequent aftershocks but they are a long way from the epicentre and the horrors on the south side. Thank you for your messages and concern
22/04/2015
Today he is on his way to interim camp where they will be sleeping tonight. He is currently meandering up mount Everest behind a load of grumpy yaks! Tomorrow they are heading to ABC where they plan to stay for 3 nights, they will move up to the North Col on the 26th and then back down to ABC where they will spend that night and the subsequent night, on the 29th they will head back to the north col where they will sleep, then back to ABC where they will spend 3 nights before returning to BC for rest days 3rd-6th May. As from May the 7th they will await weather news as to when their summit push is most likely.
13/04/2015
Neil has completed his training on the Nepalese side of the mountain and is now on his way to Tibet. He successfully summited Island Peak a 6189m peak which was a tricky ascent and new territory for him unfortunately the other people in his party didn't manage it but it stands Neil in good stead.
He is on his way to Tibet and should arrive at base camp there in the next 3-4 days where they will then walk the 20+k to Advanced Base Camp and start their serious acclimatisation.
He is ok and looking forward to getting his teeth into some hardcore training.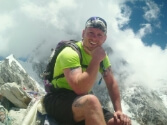 I am Neil Corry: husband, father, precision engineer, rugby player, cheese-eater and soon to be mountaineer. I will be attempting to summit Mount Everest from Tibet (the north face) in May 2015.
I am a relative newcomer to high altitude climbing but have rock climbed extensively both in and outdoor, including some ice climbing. My altitude resilience has been put to the test by my trips to the Himalayas where I have been to Gokyo Ri, Cho La Pass, Chukung, Everest base camp, Kala Patthar and Island Peak.
Rugby has been my game of choice for many years; I am currently serving my last year of a three year reign as president of Grimsby Rugby Club. I've also managed to squeeze in 14 Tough Guy Events (the world's most demanding one day survival ordeal http://www.toughguy.co.uk/), Yorkshire three peaks, 10 peaks in 10 hours, the Jersey Itex 50 mile Island walk and the infamous Snowdon 23 mile rat race.
I am a firm believer that if one man can do something then so can I, because we are all made of flesh and blood.
An important part of climbing to the top of the world is acclimatisation. The best chance of completing this task is by spending 3 months in the Himalayas in preparation which is exactly what I'm about to do…in 2 weeks time! Amongst the many training climbs will be Island Peak (6189m), a mountain used for the same purpose by Sir Edmund Hilary before his successful summit attempt 62 years ago.
This is not a holiday, it has taken an awful lot of training, determination and organisation. Alongside this I have done plenty of research and read plenty of accounts of climbing Everest – in fact if you have any Everest based questions, I'm your man.
I think a challenge such as this is an excellent way of raising awareness and funds for charity. A charity that I am supporting is The Endeavour Trust. www.endeavour.org.uk Endeavour is a small national charity working at grass roots level with some of England's most disadvantaged and disaffected young people. In this country, there are in excess of a million young people in neither education, the work place nor training. Endeavour is one of the oldest charities in the country. They are self-confessed as neither fashionable nor flavour of the month but their mission statement is 'if we can put young people into the workplace, and with a moral compass, then we will safeguard future generations.' I think this is a worthwhile cause and one I am very happy to put my name to.
I managed to raise sufficient funds via crowdfunder for my downsuit through the kindness of benevolent friends. The downsuit is a crucial piece of equipment for climbing 8000m peaks to stop me becoming a permanent feature at the top of the mountain! A huge contributing factor to my -or anyone's- Everest success is mental strength, mind over matter, or just plain stubbornness which I have in bucket loads! Adorning my 8000m suit will be the names of everyone who contributed towards it. I hope to look like a Formula 1 driver with this and as my downsuit has the names of lots of people who have supported me personally, I believe it will help me through the tough times at the top and give me that extra bit of strength to get me through.
I have taken a full season off rugby (which is unheard of) to prepare for this, I have even been swimming (I hate swimming) to increase my lung capacity etc this is massive, I cannot wait to start and with your help, I can share my enthusiasm, excitement, anticipation with many many people. This is the closest a lot of people will ever come to the Himalayas let alone Everest so I want them to enjoy it as much as me. I love a challenge and revel in hardship and personal difficulty. It makes me feel alive and it makes life worth living, as I regularly say 'Get busy living or get busy dying, there's no in-between.'