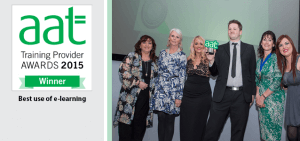 We are thrilled to announce that Premier Training has won for the second year running the AAT Best Use of E-Learning Award 2015. We have also been shortlisted for Distance Learning Training Provider of the Year Award for two years running.
We are so excited to have won this prestigious award not once but twice and that it testament to our hard work in making our student resources more enjoyable and user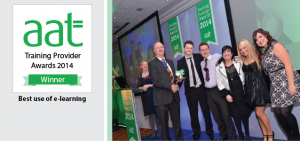 friendly for you. Premier Training's E-learning resources help reinforce your studies, revision and preparation for the exams and you can access them anytime from anywhere.
Online assignments: Our assignments and practice assignments are skills based, allowing you to put into practice what you have learned in theory. They cover the course topics extensively to ensure that students are fully prepared for the AAT assessments.
Each assignment will cover just a few chapters of your study book. We will tell you which chapters of which book you will need to complete for each assignment. You can choose the pace of your course and we will prepare a timetable to suit. This timetable will keep you on track and help you achieve your goal in the timescale you have chosen.

Online interactive videos: E-learning videos allow tutors to cover key topics visually. It provides invaluable reinforcement of the subjects covered in the course and helps students by seeing the material as well as reading about it. Students can access the videos anytime from anywhere through the internet instead of relying on DVDs or flash drives, with easy access using mobiles, tablets and laptops.
Our videos are interactive with integrated tests to ensure the students have absorbed the knowledge effectively. The students will benefit from the ability to pause and rewind, and gives the student the advantage of studying at their own pace; something a classroom course cannot offer.
Online live interactive lessons: With the combination of visual and audio resources, the tutor can mimic the classroom experience and deliver clear, concise instructions but still have the flexibility of distance learning. You can ask questions throughout and are tested to ensure you have absorbed the knowledge correctly and fully. Our live lessons run weekly on a range of topics but if you cannot attend, they are recorded and stored in MyPTA so you can access them at anytime and as often as you like.
My Premier Training Account (MyPTA)
MyPTA is your own personal online account that has everything you need to study right at your fingertips and you can short cut to MyPTA with our Premier Training App. You have access to:
tutor and course advisor contact details
study books online
personal timetable
revision tools and extra e-learning tests
e-learning
instalment plan
updates and news
registration and ID numbers