If you are funding your AAT studies yourself you will be offered 2 options to cover the fees. Instalments or Student Loans.
At Premier Training we aim to make Accountancy training affordable to allow all students the opportunity to study and take the next step towards becoming AAT qualified while keeping costs within your means. Our interest free instalment plan allows you to spread the costs over an agreed time period and we also accept the Professional Career Development Loan.
The choice is yours on which works best for you and your circumstances but you have the opportunity to study with Premier Training with either option. Below is an overview of each option which may help you decide what which will best suit you:
Instalments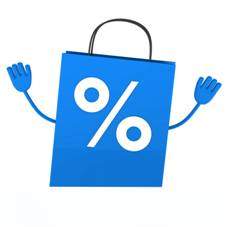 Instalments allow you to spread the cost of your studies over a set period to make it more manageable on your finances and you can generally choose the amount of instalments to help fit within your budget.  You can even choose to include your AAT Subscription fees which will take the pressure of registering and incurring extra costs at the start of your course, so you can solely concentre on getting started and making progress alongside making the most of your AAT account and resources.  All this is offered interest-free! You can enrol by paying the first instalment and then chose a suitable date each month for your remaining instalments. You can even make additional payments and pay off the balance early should your circumstances change. Your instalment plan will continue as agreed even if you complete your course so we do not put any barriers in the way to hold you back from making progress at your own pace including fast track.
Student Loans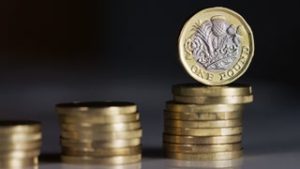 Loans are a good way to take the pressure off any immediate payment to get your studies started. You will also not need to make any payments throughout your studies so it will allow you to study and pay any additional fees such as exams without having to consider monthly outgoings. This is, however, a temporary solution to avoid monthly fees, as later down the line monthly payments will be taken plus interest.  It is important to know that of course, like any other loan, this will generate interest so you will pay back the full costs and additional interest. You can borrow between £300 and £10,000 and can cover fees more than one course in one loan application. There is eligibility to meet so it is always worth checking that you meet this before applying.  Your loan repayments including interest wilt start one month after your official course end date (which is agreed on your PCDL application prior to the course starting) so you really need to plan for this within your personal finances.   If you do not complete the course you are still liable for all repayments.
The loans are only available to Technician Accounting courses so you can not access this for shorter courses (including AAT Level 1 courses, Bookkeeping, Accounting Software courses, Payroll)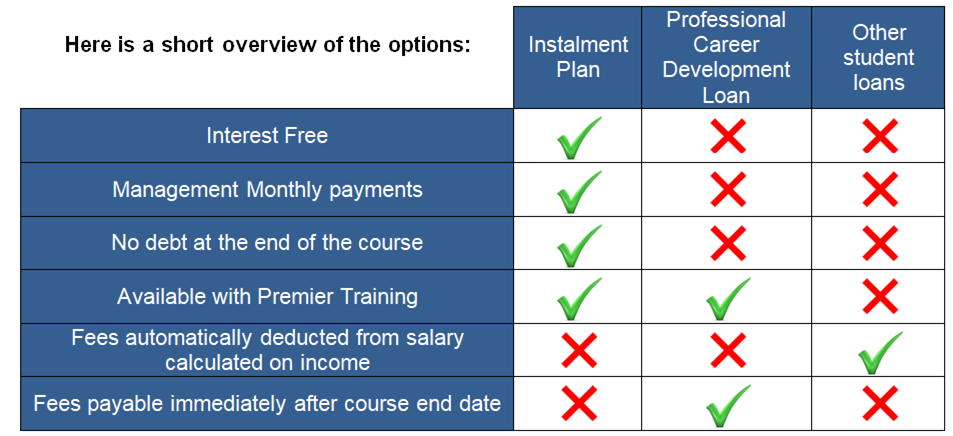 For further information on Professional Career Development Loans, you can call 0800 100900 or ask for a representative to call you here.
For more information on Premier Training's interest-free instalment plans to cover your AAT studies you can contact us on 01469 515444 or info@premiertraining.co.uk.  You can also enrol online onto any of our AAT courses distance learning courses with interest-free payment plans online here.