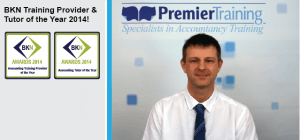 We are so pleased to announce that Premier Training has been awarded the Book-keepers Network (BKN) Training Provider of the year 2014 and our very own Neil Concannon has been awarded the BKN Accounting Tutor of the Year 2014.
We are really proud of the Premier Training team for all their hard work and commitment to students.
We want to say a big thank you to everyone who has voted for us.