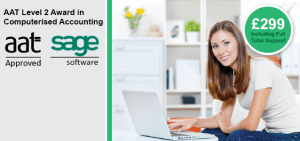 The AAT Level 2 Award in Computerised Accounting is a short qualification with one unit. Developed as a stand-alone nationally recognised qualification, the Award in Computerised Accounting is perfect for those who need to get to grips with computerised accounting software and enhance their current knowledge, allowing them to use such software in the work environment. This single unit qualification is available at AAT Level 2 on the QCF.
Qualification breakdown
Enter accounting data at the beginning of an accounting period
Record customer transactions
Record supplier transactions
Record and reconcile bank and cash transactions
Be able to use journals to enter accounting transactions
Produce reports
Maintain the safety and security of data held in the computerised accounting system
Aims of the qualification
On completion, students will be able to use a computerised accounting system to enter accounting transactions, perform a reconciliation, correct errors and produce a range of reports. They will also be able to maintain the security of accounting information using passwords and backup routines
For in-depth information regarding AAT Level 2 Award in Computerised Accounting course units, tutor support, study materials and course fees please click here
There are no products in this group.
Updating...